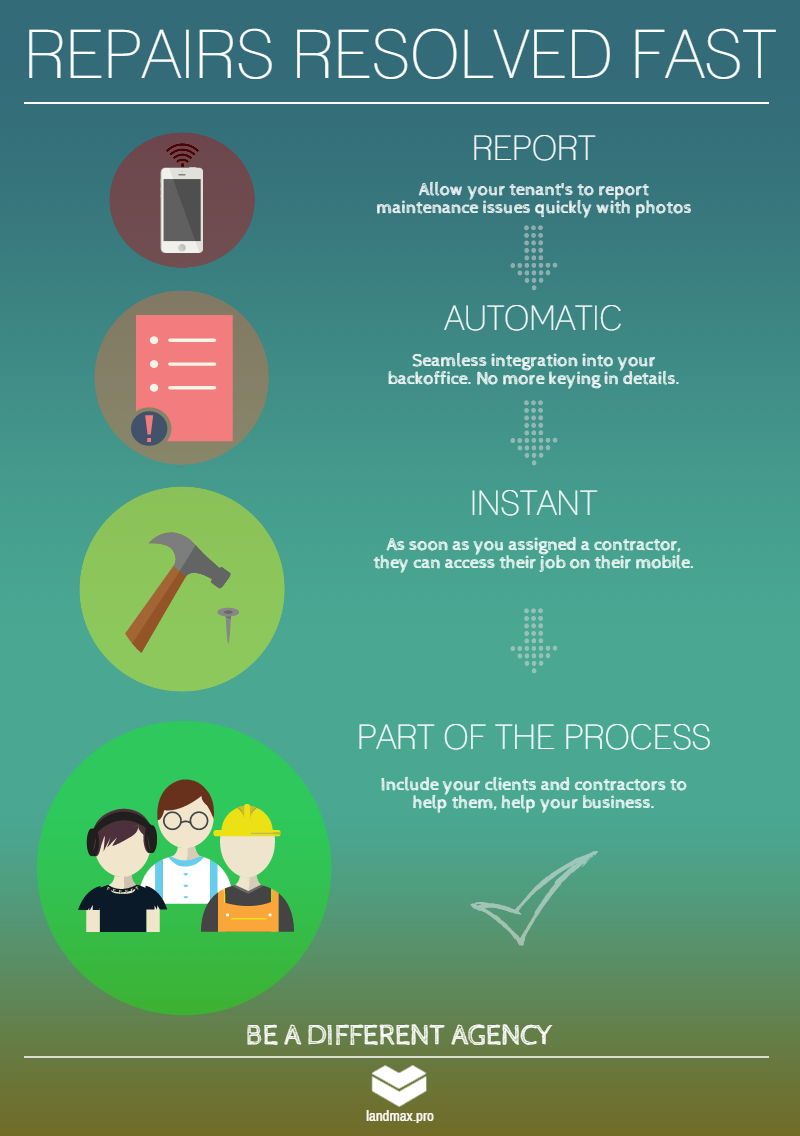 Experienced property managers understand that there are many aspects of the job that take too much time, way more than required.

Today's health and safety requirements have driven this industry to save time and invest in multiple, non-related systems to overcome the burden of the required administration; for example, reminder lists, online forms, website guides, ticket systems, invoice software and databases.

Maintenance reporting has always been a headache for most property managers, including handling phone calls, logging that information manually, updating the landlord and then getting in touch with a contractor and seeing their availability.

The time cost for this process is very high, and there are few systems that may handle these aspects well. From a simple form-based system that converts reports to emails, to databases that just log the information, but where it still has to be manually entered and maintained. These systems, even though built to save time, require time to manage.

We at landmax.pro like to create solutions that handle this workload in a far more economical and logical way. Below is our system's maintenance workflow, to allow you to gauge an ideal process that we think really works well.

The process should be simple for your tenant, making it easier than a phone call.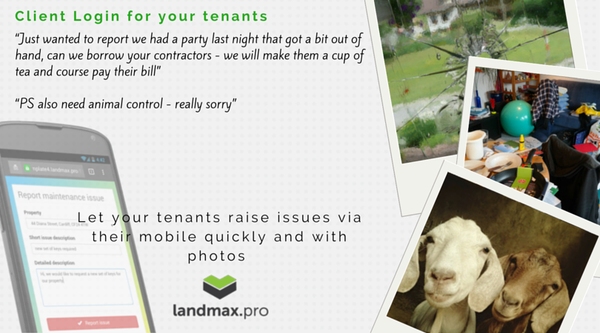 Our system allows your tenants:
to report to you via their mobile
to easily and quickly relate an issue
to take photos from their smartphone camera - regardless of mobile OS
to see a confirmation of the maintenance reported and its current status
to see shared reports, like maintenance guides that are unique to that tenancy
Dealing with maintenance comprises a large amount of a property manager's business, and in this competitive environment, the speed at which things are needed to be carried out should be protected as much as possible from the system - removing the delay or error of human input.
Our system enables your agency:
to save time, as no data entry of issue is required
to focus on the issue, not the admin
to assign a contractor with a click
to track maintenance and progress
to handle small or complicated issues
to add paperwork, files, photos and even videos to an issue
Contractors/suppliers are another group of people that need to handled/managed. And they are important to a property business; indeed, their service level represents a company's brand.
Give them tools to access information easily from home on our site via a mobile.
Our system allows your contractors:
to pick up reports automatically at a time that suits them
to track their payments with you
to track their assigned contractor job
to securely access reports, like tenant contact details or detailed property information
The most important bunch of people that sustains a letting agent are their landlords. By giving them access to maintenance logs, status and detailed reports, an agency can be transparent and allows landlords to know that the job is being carried out.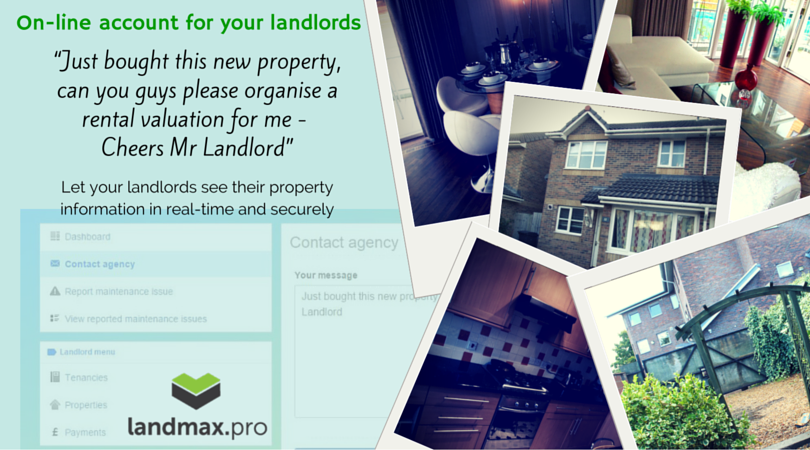 Landmax.pro allows your landlords:
to be kept up to date via their personalised login screen
to access all maintenance related issues and statuses
to access detailed maintenance reports
to contact the agency
to report maintenance that they want you to handle for them
to see agency invoices related to contractor jobs
Maintenance is important and these tools will certainly help you to solve the most common issues.
From experience however, agents wanting to get new business never cover maintenance processes in detail with their clients. This is usually learned when an issue actually occurs, which also generally comes as a surprise for the landlord with an unexpected responsibility - causing more delays than necessary.
With so many regulations and your reputation at stake, by encompassing good processes and business tools, you can get a grip on the entire procedure, keeping clients happy and still making a profit.
Experience landmax.pro in action:
No contract, No commitment, No setup fees!
All accounts come with a 14 day trial. See our transparent pricing