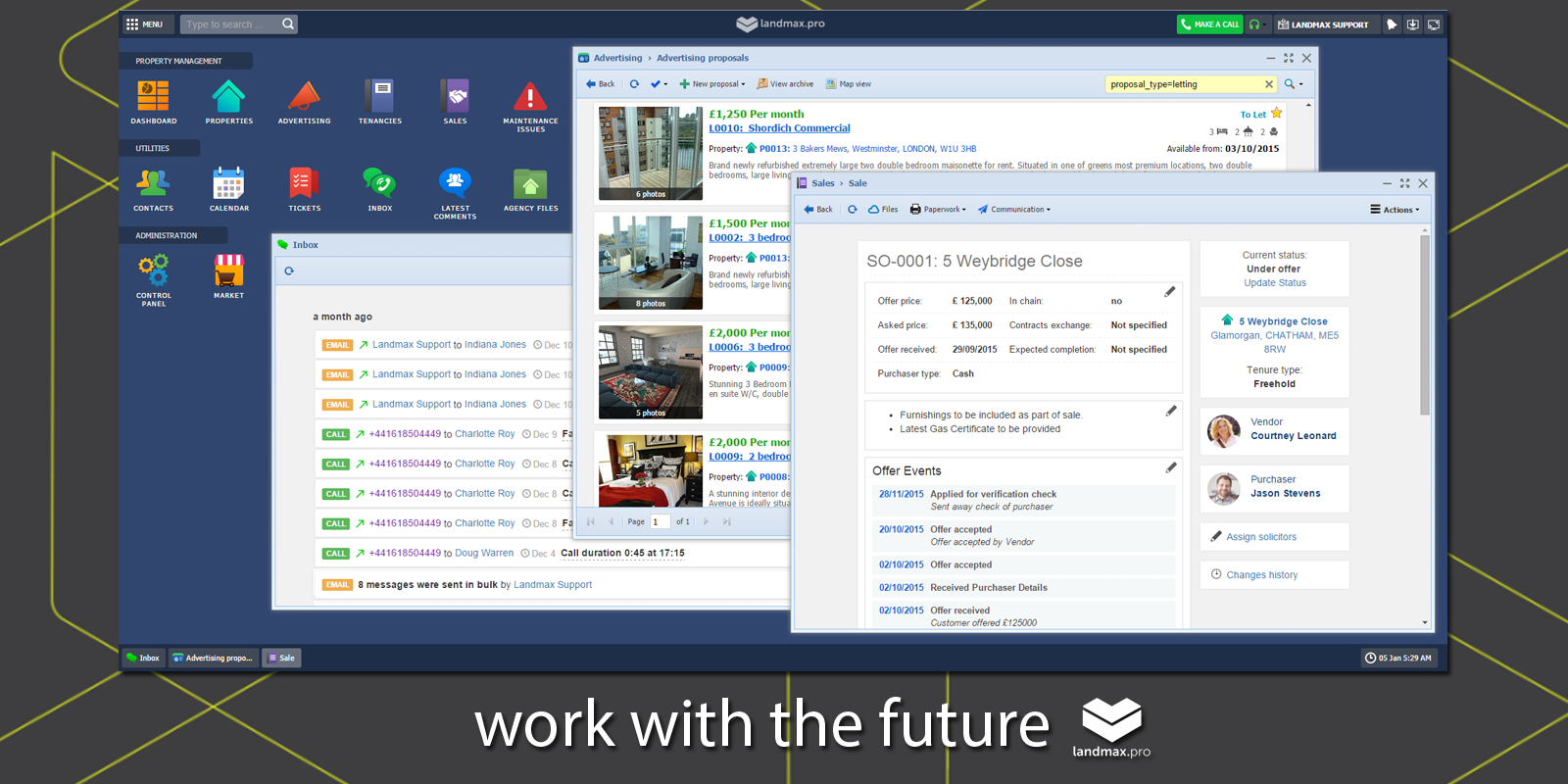 2015 was a very busy year for landmax.pro. Not only did we add hundreds of new features, but we also implemented over a thousand user-requested changes and improvements.
We covered many of these features in our news articles. However, below we will mention some of the major achievements.
We started 2014 with the new revolutionary concept of multi personality contacts, which nicely solves the contact duplication problem and promotes fluid contact management.
Next we launched self-service frontends for a wide variety of user groups: landlords, tenants, contractors, applicants, vendors, solicitors, prospects and purchasers. Users can log in and access their agency profiles securely at any time.
With the introduction of a range of further features, landmax.pro became a full-featuredCRM for letting and estate professionals.
Landmax-powered websites became even more powerful, with a visual blog editor, automatic EPC/floorplan uploads, instant search and many other improvements.
We improved and repolished almost every single screen to offer an unmatched user experience and efficiency.
The new landmax.pro Inbox for managing email and SMS communication was an instant hit with our users.
Without further ado we added Phone Calls to our system, thus transforming landmax.pro into full-featured communication platform.
In our determination to make landmax.pro a complete property management solution, we added sales and conveyancing features next.
Such a rich solution can't be complete without a powerful, easy-to-use template engine covering emails, SMS and document generation. With almost all of the agency data made available for templating, our users have complete freedom in utilising their data.
Google Chrome launcher made landmax.pro even more accessible.
There were hundreds of additional new features implemented last year, some of which are mentioned here.
The best part is that there is much more to come. We have lots of new exciting stuff yet to announce.
We thank all our users for their support, feedback and encouragement, and invite the rest of you to become a part of the landmax.pro universe.
Experience landmax.pro in action:
No contract, No commitment, No setup fees!
All accounts come with a 14 day trial. See our transparent pricing
We wish you all a Happy New Year and success in 2016.